How do I send cryptocurrency to another wallet?
1. At the top right corner you will click in "Operations".


2. Click on the "Send Funds" arrow.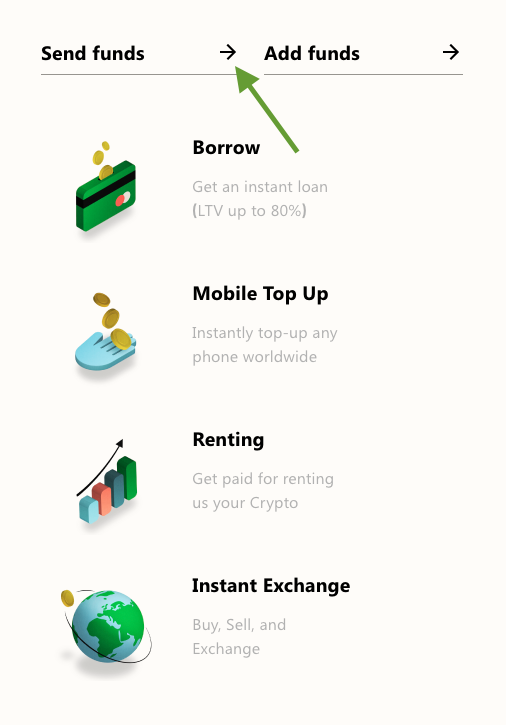 3. Select the cryptocurrency wallet that you'd like to send from.

4. In the right dropdown select To External Wallet.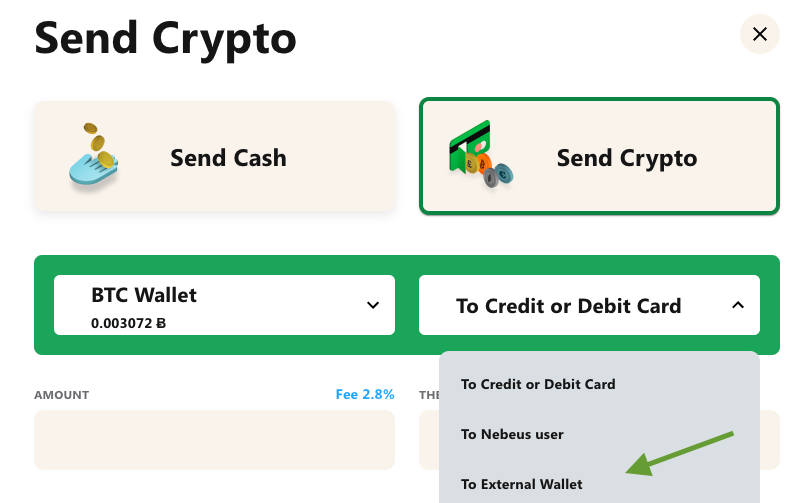 5. Fill in the fields and click the 'Get PIN Code' button. You will receive an email with your one time PIN code (please, don't forget to check the 'Spam' folder).
6. Enter the PIN code and Confirm the payment.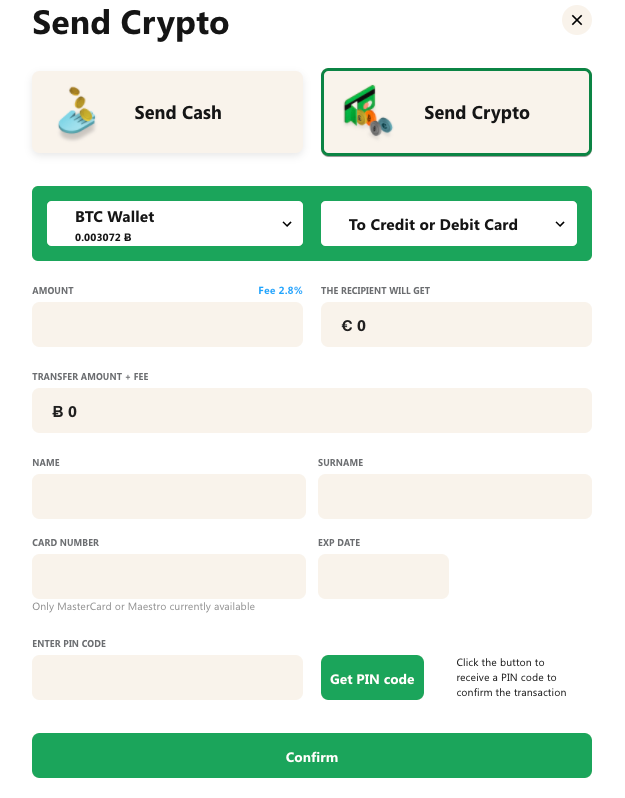 Related Articles

How to transfer crypto from another wallet

Add Crypto to your Nebeus account to unlock its full potential. As soon as your account is replenished with Bitcoin or Ethereum, you're ready to take a Crypto-backed loan, rent us your Crypto to earn interest in cash, top up your mobile. 1. From your ...

How to start if you do not have cryptocurrency?

First, you will need to add fund to your Nebeus account. Once is done you can exchange your funds for BTC or ETH. Adding funds to your account To start click in (Located at the top right of your account) 1. Click in "Add funds" arrow. 2. Then click ...

Send Fiat funds to a card or a bank account

In order to withdraw your EUR, USD or GBP funds to a card or a bank account, login to your Nebeus account and click in "Operations". (Located at the top right of you screen account). 1. Click on the 'Send funds' arrow. 2. And then click in "Send ...

How long will it take for the loan to come into my wallet?

Once you complete your loan request and has been approved, you will receive your loan agreement in around 2 hrs. The money will appear in to your Nebeus account not long after the Loan being approved. To transfer the amount over €4.500, the money is ...

Terms of Use

PLEASE READ THESE TERMS OF USE CAREFULLY. BY CLICKING TO ACCEPT, OR BY ACCESSING OR USING OUR SERVICES, YOU AGREE TO BE BOUND BY THESE TERMS OF USE AND ALL TERMS INCORPORATED BY REFERENCE. You consent to accept these terms of use should you accept ...