How long do I have to react to a margin call?
If you have selected "When crypto prices are falling" option before you complete your loan, you still can react regarding a margin call, but you have to be super quick by adding collateral to your wallet.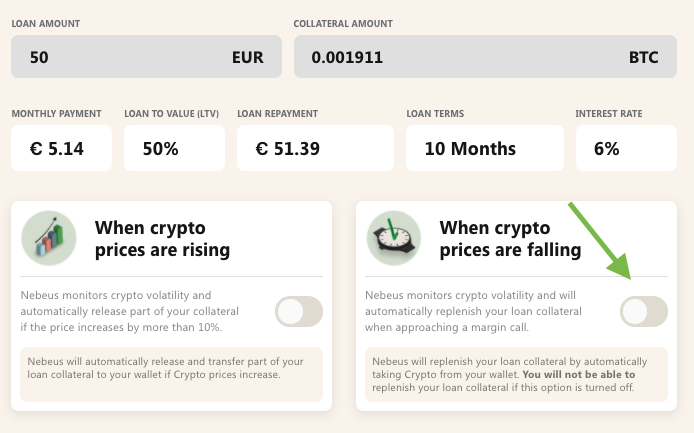 We recommend that you leave some extra collateral in the wallet so if the price falls, we automatically add the margin required to keep your Loan.
Related Articles

What is a margin call and how does it work?

Nebeus loans use cryptocurrency as collateral which is locked to cover the amount of the loan according to your LTV. Collateral is used by the lender as insurance against the loan. When you enter into a loan backed by cryptocurrency you are agreeing ...

My collateral has been liquidated due to a margin call: what can I do?

When your loan approaches a margin call and your Crypto collateral is at risk of liquidation, you will be notified via email. However, if there is no action taken from your side by the moment of a margin call, there is still a way to avoid your ...

How long will it take for the loan to come into my wallet?

Once you complete your loan request and has been approved, you will receive your loan agreement in around 2 hrs. The money will appear in to your Nebeus account not long after the Loan being approved. To transfer the amount over €4.500, the money is ...

Terms and Payouts

With Nebeus you can earn money by renting us your Stablecoins or Crypto. Whether you would like to just try depositing Crypto or have a long term commitment, we've created two Renting programs for both types of currencies that will adapt to your ...

How to transfer crypto from another wallet

Add Crypto to your Nebeus account to unlock its full potential. As soon as your account is replenished with Bitcoin or Ethereum, you're ready to take a Crypto-backed loan, rent us your Crypto to earn interest in cash, top up your mobile. 1. From your ...