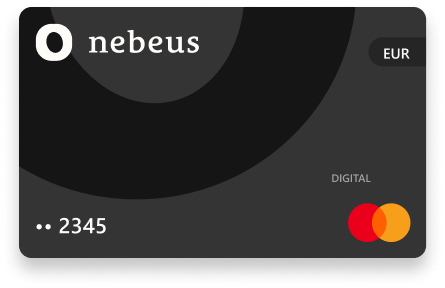 At Nebeus, we are committed to providing you with a seamless and rewarding experience when using our Nebeus Mastercard. To help you make informed decisions and manage your finances effectively, we've outlined the fees and limits associated with your Nebeus Mastercard in this comprehensive guide.

Card Issuance Fee:

The fee for issuing your Nebeus Mastercard is 9.95 EUR.


Spending Limits:

Daily spending limits of up to 10,000 EUR, USD, or GBP. This empowers you to make transactions according to your financial preferences. Additionally, benefit from monthly spending limits of 35,000 EUR, USD, or GBP. These flexible limits ensure that you have control over your financial choices.


ATM Withdrawal Limit:
Monthly Fee:
We believe in rewarding our active users. If you spend 600 EUR or more using your Nebeus Mastercard per month, there are

no monthly fees

.

For users who spend less than 600 EUR per month, a monthly fee of 4.95 EUR will be applicable.
Exchange Fee

The average charge for processing exchange cryptocurrency transactions involves a 2% fee based on the prevailing
Cryptocompare rate
.
We are dedicated to providing transparent and user-friendly services. If you're considering getting the most out of your Nebeus Mastercard, make sure to keep these fees and limits in mind.

Should you have any further questions or require assistance, our customer support team is readily available to assist you. Feel free to reach out through our website or app, and we'll be more than happy to help.
Thank you for choosing Nebeus as your financial partner. Your convenience and satisfaction are our top priorities.
Please note that all fees and limits mentioned above are accurate at the time of publication. Your local bank may impose supplementary charges for interchange transactions.Nebeus reserves the right to make changes to fees and limits. Please refer to our website or app for the most up-to-date information.