Resolve Issues and Take Action
If you encounter any issues or need to take action regarding your loans on Nebeus, we have provided a simple guide to assist you. In this article, we will walk you through the steps to resolve issues and manage your loans effectively.
Accessing the Loans Section: To begin, navigate to the Loans section on the Nebeus platform. This section allows you to view and manage your active loans.

Viewing Loan Details: Within the Loans section, locate the "Active" tab. Here, you will find a panel displaying important information about your loan, such as the Liquidation Risk and Outstanding Balance. These details provide insights into the current status of your loan.

Taking Action - Repay Loans: If you wish to repay your loan in full, simply click on the "Repay Loans" button within the loan panel. This action will initiate the repayment process, allowing you to settle the outstanding balance and close the loan.

Taking Action - Add Collateral: In some cases, you may need to add additional collateral to meet the loan requirements or address a margin call. To do this, click on the "Add Collateral" button within the loan panel. By adding more collateral, you can maintain a healthy loan status and avoid any potential issues.

Exploring Payment and Collateral Details: To gain a deeper understanding of your loan's payment schedule and collateral status, click on the "Payment & Collateral" button. This will open a detailed view of your loan's payment schedule, providing you with information on upcoming payments and collateral requirements.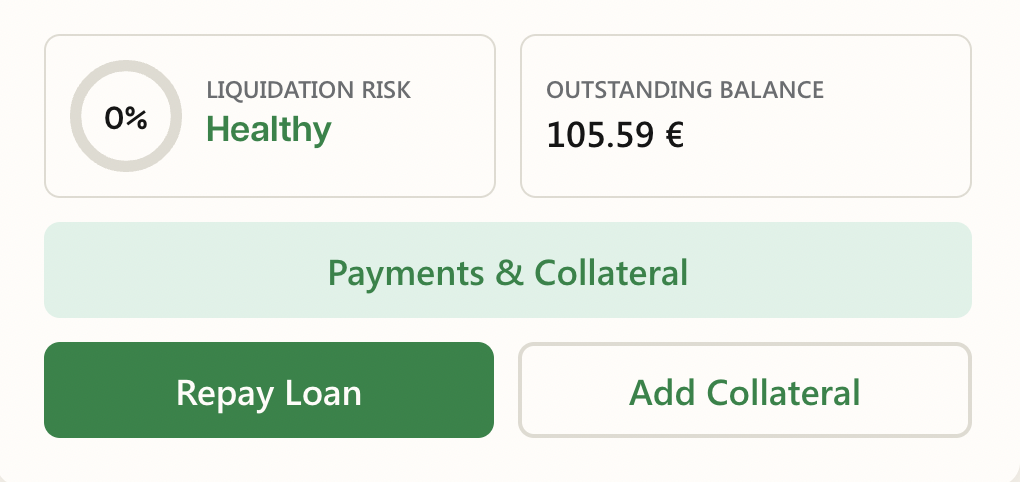 By utilizing the options mentioned above, you can effectively manage your loans on Nebeus and take the necessary steps to address any issues that may arise.
Should you encounter any difficulties or require further assistance, our dedicated customer support team is ready to help. Feel free to reach out to us through the Nebeus platform, and we will be happy to provide guidance and support.

Remember, maintaining open communication and staying proactive when managing your loans is essential. By taking prompt action and utilizing the available tools, you can ensure a smooth and successful loan experience on Nebeus.

Related Articles

Managing a Margin Call

At Nebeus, we understand that market fluctuations can occasionally lead to margin call situations for borrowers. However, we want to assure you that we have measures in place to help you manage these situations effectively. In this article, we will ...

Can I Make an Early Loan Repayment?

At Nebeus, we understand that financial situations can change, and you may wish to repay your loan earlier than initially planned. We're here to provide you with clarity on how early loan repayments work and what you can expect when you choose this ...

How to apply for a loan?

Nebeus provides a seamless process for obtaining a crypto-backed loan. This step-by-step guide will assist you in understanding the loan application process, repayment details, and additional features available to ensure a smooth experience. 1. Log ...

Margin Call Prevention Solution

To address the risks associated with loan collateral value fluctuations, Nebeus has implemented a robust margin call mitigation solution. This solution aims to protect both borrowers and Nebeus by providing essential features that enable borrowers to ...