What can you do with a Crypto Account?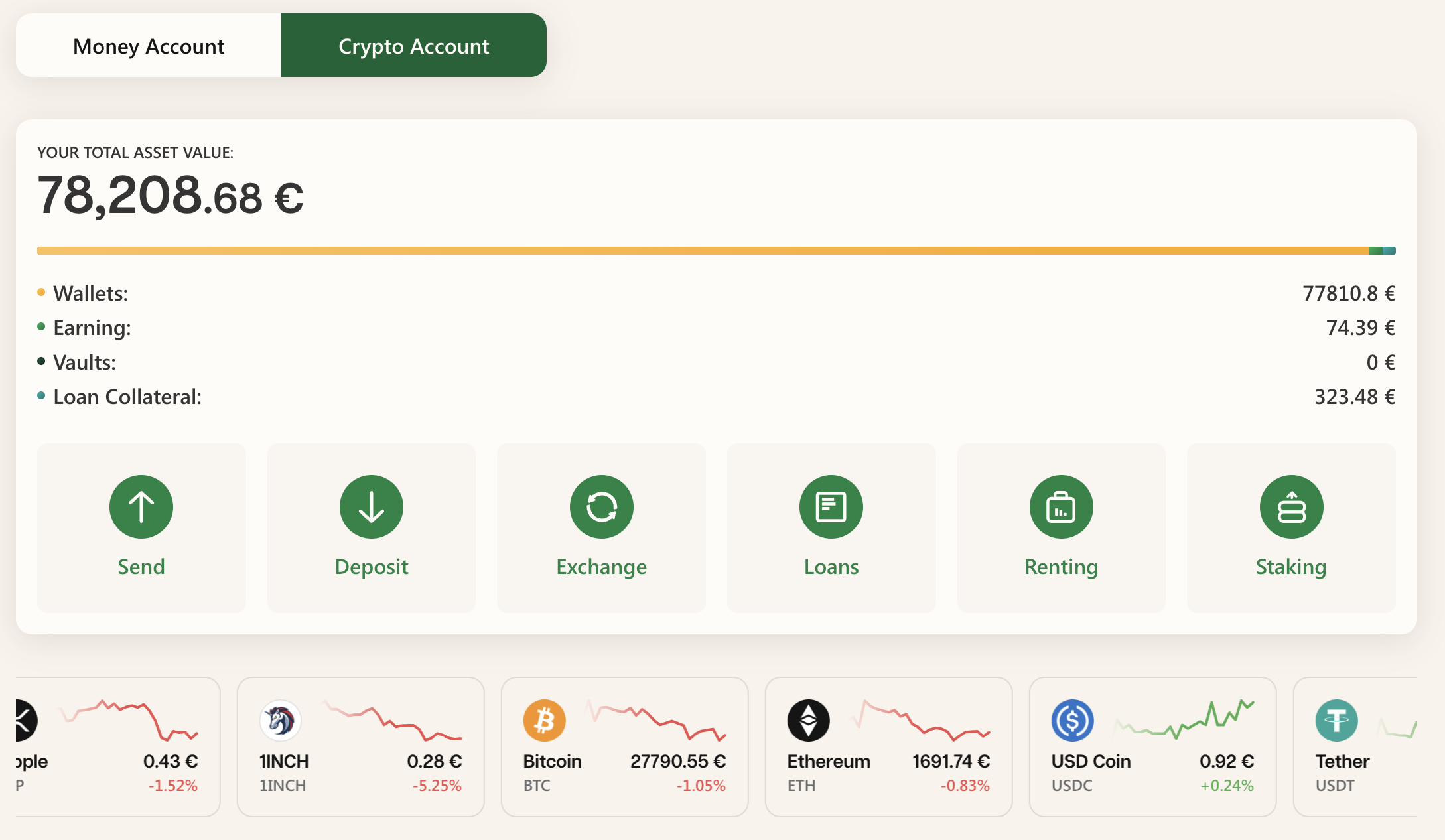 We are excited to introduce you to the limitless possibilities of your Nebeus Crypto Account. With this account, you have access to a wide range of features and services that empower you to fully embrace the world of cryptocurrencies. Let's explore what you can do with your Nebeus Crypto Account:
Store & HODL Your Crypto: Safely store your cryptocurrencies in your Nebeus Crypto Account. Whether you're a long-term holder or prefer to keep your assets secure, Nebeus provides a reliable and secure platform for storing your crypto holdings.

Receive Crypto from Any Wallet: Easily receive cryptocurrencies into your Nebeus Crypto Account from any external wallet. Whether it's Binance, Kraken, or other popular wallets, you can effortlessly consolidate your crypto assets within your Nebeus account.

Exchange to FIAT and Instantly Transfer: Convert your cryptocurrencies into fiat currency and instantly send the funds to your Nebeus Money Account. This seamless process enables you to use your crypto for everyday spending, making it easier to manage your finances.

Send Crypto to Nebeus Friends for Free: Enjoy the freedom of sending cryptocurrencies to your Nebeus friends without incurring any fees. Nebeus facilitates hassle-free and cost-effective crypto transfers between users within the platform.

Deposit FIAT with Ease: Deposit fiat currency into your Nebeus account using various methods such as card payments, Apple Pay, or bank transfers. Nebeus offers convenient options to fund your account and expand your financial possibilities.

Explore Crypto Renting: Engage in crypto renting, which allows you to lend your crypto assets to earn passive income. Nebeus provides a secure platform for you to participate in crypto rental services.

Benefit from Crypto Staking: Unlock the potential of your cryptocurrencies by engaging in staking activities. Nebeus offers opportunities for you to earn rewards by staking your crypto assets.

Apply for a Crypto-Backed Loan: Leverage your crypto holdings to access quick and convenient loans. Nebeus enables you to apply for crypto-backed loans, utilizing your assets as collateral for borrowing.

Secure Your Crypto with Free Insured Cold Storage Vault: Keep your cryptocurrencies safe and secure in Nebeus's free insured cold storage vault. Benefit from enhanced security measures and peace of mind for your digital assets.


While your Nebeus Crypto Account offers a wealth of possibilities, it's essential to note the limitations:

Third-Party FIAT Deposits: FIAT deposits via bank transfer must originate from an account registered under your name. Nebeus does not accept deposits from third-party bank accounts.

FIAT Withdrawals to Third Parties: For sending FIAT currency to third parties, please refer to our Nebeus Money Accounts, which provide the necessary functionality.

Personal IBAN Number or UK Sort Code: Nebeus Crypto Accounts do not provide personal IBAN numbers or UK sort codes. Please utilize our Nebeus Money Accounts for such requirements.

We hope this overview of your Nebeus Crypto Account's capabilities inspires you to explore and maximize your cryptocurrency journey. Should you have any questions or require assistance, our dedicated support team is always ready to help.

Related Articles

Nebeus Account Types: Simplifying Crypto and FIAT Transactions

At Nebeus, we offer two types of accounts that cater to your financial needs. Our EUR & GBP personal IBANs and Sort Code & Number accounts provide traditional banking services, while our Crypto Account connects you to our comprehensive crypto service ...

What can you do with a Money Account?

Welcome to the Nebeus Help Center! In this article, we will provide you with a comprehensive overview of the functionalities and limitations of a Nebeus Money Account. Let's dive in: What can you do with a Money Account? Personal EU IBAN and UK Sort ...

Account Activation

To ensure a seamless onboarding process and access to the full range of Nebeus services, it is important to activate your Nebeus account. Here's a step-by-step explanation of the account activation process: Signup Process: Begin by signing up for a ...

Create a Nebeus account

To create a Nebeus account, you can follow these steps : Access the Nebeus Signup Page: Open a web browser and visit the following URL: https://app.nebeus.com/signup. Alternatively, you can download the Nebeus app on your Android or iOS device to get ...

Troubleshooting access to your account

Check your login credentials: Ensure that you are entering the correct email address and OTP code received in your email with your Nebeus account. Double-check for any typos or errors. Reset your password: We have implemented passwordless technology. ...