What can you do with a Money Account?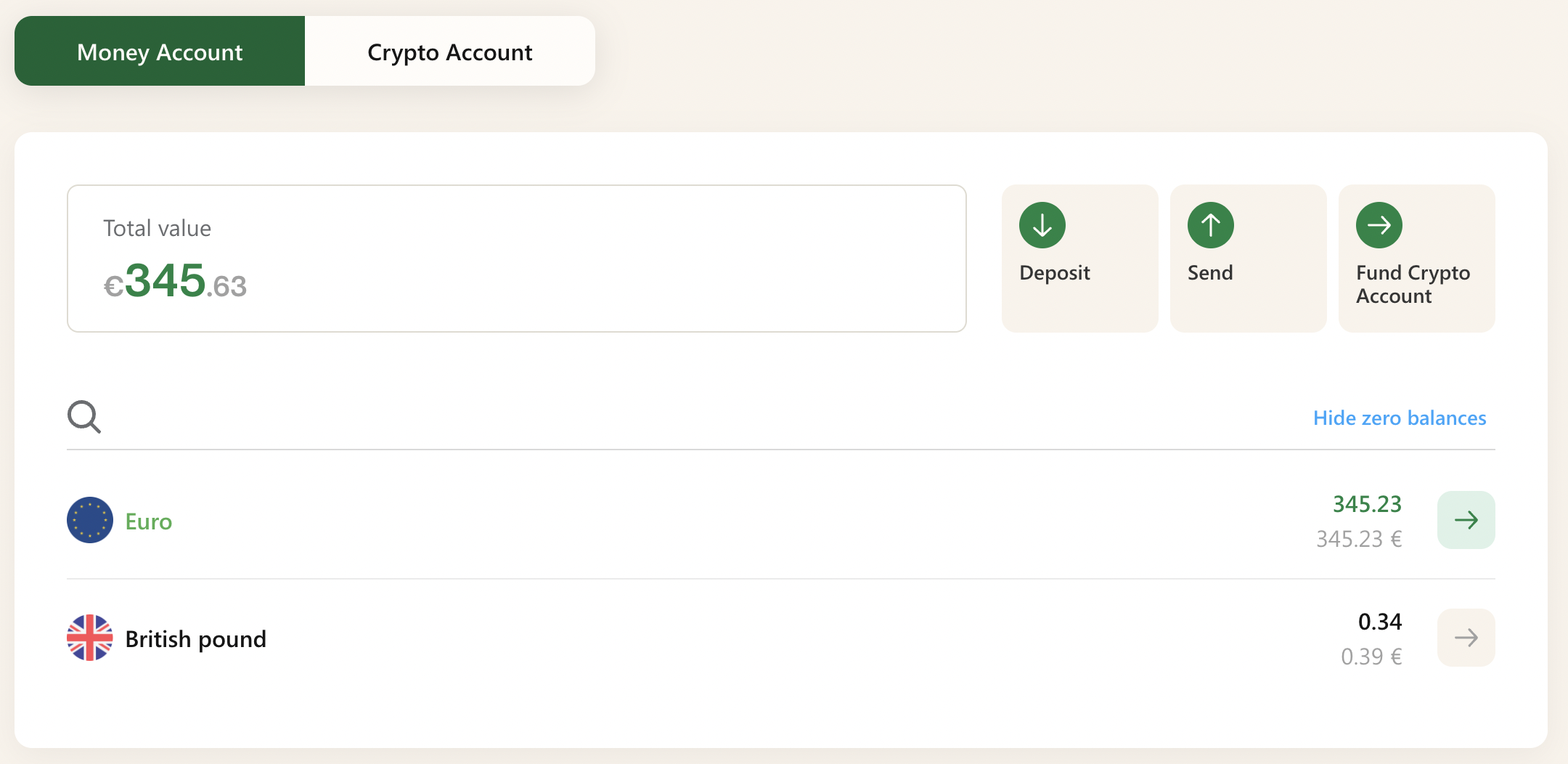 Welcome to the Nebeus Help Center! In this article, we will provide you with a comprehensive overview of the functionalities and limitations of a Nebeus Money Account. Let's dive in:

What can you do with a Money Account?
Personal EU IBAN and UK Sort Code: With a Nebeus Money Account, you can enjoy the convenience of having your own personal EU IBAN for euros and a UK Sort Code for British pounds. These unique account details facilitate seamless transactions and banking activities.

Transfer to Third Parties and Receive Deposits: Our Money Account allows you to transfer funds to third parties and receive deposits from external sources. You can effortlessly manage your finances, make payments, and conduct transactions with ease.

Connect with Crypto Exchanges: Easily receive and send funds to popular crypto exchanges such as Kraken, Bitstamp, and more. This integration enhances your crypto trading experience and streamlines the movement of funds between your Money Account and external platforms.

SEPA Instant Payments: Utilize SEPA Instant, a fast payment feature, to make quick and convenient payments directly from your Money Account. Enjoy the benefits of instant transactions within the Single Euro Payments Area (SEPA).

Salary, Bills, and Crypto Services: Receive your salary directly into your Money Account, pay bills, and leverage the interconnectedness of your IBAN/Sort Code account with our extensive ecosystem of crypto services. Nebeus offers a unified platform where you can seamlessly manage your financial activities.

Free Virtual Card for Hodler and Whale Subscriptions: As a Hodler or Whale subscriber, you have the privilege of ordering a free virtual card. This card opens up a world of possibilities, allowing you to make online purchases and transactions securely.

Transfer between Money and Crypto Accounts: Enjoy the flexibility of transferring funds between your Nebeus Money Account and Crypto Account. This feature enables you to optimize your financial strategies and access the benefits of both fiat and cryptocurrencies.

While your Money Account offers a host of capabilities, there are certain limitations to be aware of:

Daily and Monthly Transaction Limits: Please ensure that your transactions do not exceed the set daily or monthly limits imposed by Nebeus.

Virtual Card Access: The option to order a virtual card is available only with Hodler and Whale Subscriptions. Standard Money Account subscriptions do not include this feature.

P2P Deposit Restrictions: Deposits from peer-to-peer transactions are not allowed within the Money Account.

Non-EEA Country Accounts: Non-EEA country residents are unable to create a Money Account at this time.

We hope this guide has provided you with a comprehensive understanding of the capabilities and limitations of a Nebeus Money Account. If you have any further questions or require assistance, please do not hesitate to reach out to our dedicated support team.
Related Articles

Nebeus Account Types: Simplifying Crypto and FIAT Transactions

At Nebeus, we offer two types of accounts that cater to your financial needs. Our EUR & GBP personal IBANs and Sort Code & Number accounts provide traditional banking services, while our Crypto Account connects you to our comprehensive crypto service ...

What can you do with a Crypto Account?

We are excited to introduce you to the limitless possibilities of your Nebeus Crypto Account. With this account, you have access to a wide range of features and services that empower you to fully embrace the world of cryptocurrencies. Let's explore ...

Account Activation

To ensure a seamless onboarding process and access to the full range of Nebeus services, it is important to activate your Nebeus account. Here's a step-by-step explanation of the account activation process: Signup Process: Begin by signing up for a ...

Create a Nebeus account

To create a Nebeus account, you can follow these steps : Access the Nebeus Signup Page: Open a web browser and visit the following URL: https://app.nebeus.com/signup. Alternatively, you can download the Nebeus app on your Android or iOS device to get ...

Troubleshooting access to your account

Check your login credentials: Ensure that you are entering the correct email address and OTP code received in your email with your Nebeus account. Double-check for any typos or errors. Reset your password: We have implemented passwordless technology. ...