At Nebeus, we provide a range of card options designed to enhance your financial experience and offer greater flexibility in managing your funds. In this article, we'll introduce you to the types of cards we offer: Nebeus IBAN Cards and Nebeus Crypto Cards.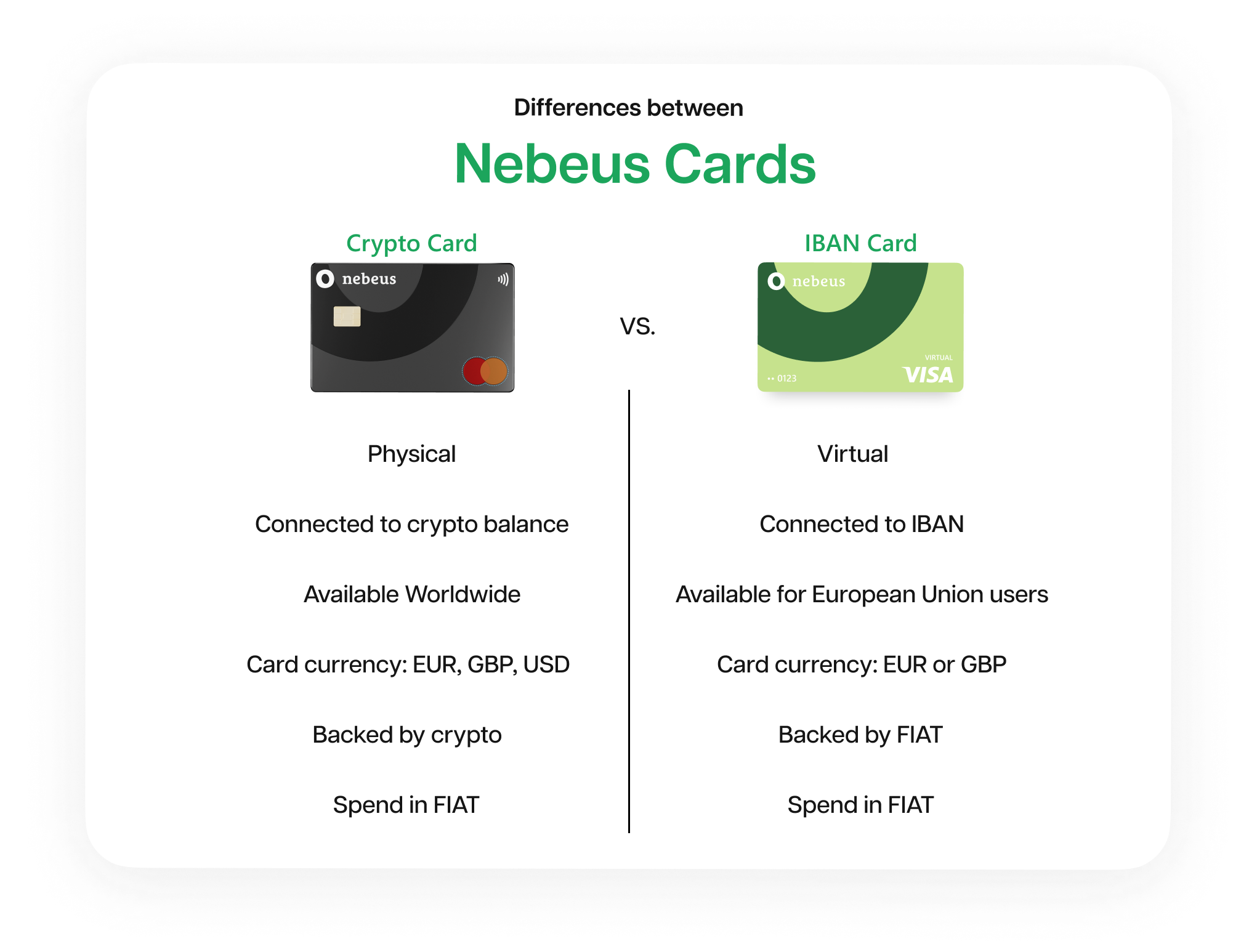 Card Comparison
Our Nebeus IBAN Cards are a digital payment solution that's seamlessly linked to your Nebeus IBAN or Sort Code account. Designed exclusively for our Hodler and Whale subscribers, these virtual cards offer you a convenient way to conduct secure transactions within the trusted Visa network. With a Nebeus IBAN Card, you can transact globally in euros (EUR) or pounds (GBP) without the need for a physical card. Currently we do not offer physical cards.
Key Features of Nebeus IBAN Cards:
Seamless Integration: Connects directly to your Nebeus account, allowing you to manage funds and monitor transactions from your Nebeus dashboard.
Versatility: Enjoy access to a wide network of global merchants and service providers, enabling secure transactions online, travel bookings, and more.
Security and Protection: Utilizes encryption technology to ensure the security of your transactions and personal information.
Convenience and Control: Set spending limits, track transactions in real-time, and manage your budget effortlessly.
Global Acceptance: Operates within the extensive Visa network, making it widely accepted at millions of locations worldwide.

2. Nebeus Crypto Cards
Our Nebeus Crypto Cards are another exciting offering designed to simplify your cryptocurrency transactions. These physical cards are connected to your Nebeus Crypto account and enable you to spend your cryptocurrency holdings seamlessly. With a Nebeus Crypto Card, you can access your crypto funds for everyday purchases, making it a versatile addition to your financial toolkit. Available worldwide in only in physical format.
Key Features of Nebeus Crypto Cards:
Crypto Transactions Made Easy: Use your Nebeus Crypto Card to pay with your cryptocurrency holdings in over 90+ million merchants worldwide, just like you would with a traditional debit card.

Link Multiple Cryptocurrencies: connect up to 10 different cryptocurrencies and switch between balances whenever you need.
Secure and User-Friendly: Benefit from secure transactions and user-friendly features, ensuring a seamless experience.
Free ATM Withdrawals
: Enjoy the convenience of the first 200 EUR, USD, or GBP in ATM withdrawals being free of charge.
Easily access your funds with a monthly ATM withdrawal limit of 2,000 EUR, USD, or GBP.
Nebeus offers both Nebeus IBAN Cards and Nebeus Crypto Cards, each designed to cater to different financial needs. Whether you're a Hodler or Whale subscriber looking for virtual payment solutions or seeking to utilize your cryptocurrencies for everyday spending, we have a card option to suit your requirements.
For any further questions or assistance related to Nebeus cards, don't hesitate to reach out to our dedicated customer support team. We're here to help you make the most of your Nebeus experience.