Send Fiat funds to a card or a bank account
In order to withdraw your EUR, USD or GBP funds to a card or a bank account, login to your Nebeus account and click in "Operations". (Located at the top right of you screen account).

1. Click on the 'Send funds' arrow.

2. And then click in "Send Cash" and choose to where you would like to proceed the transfer.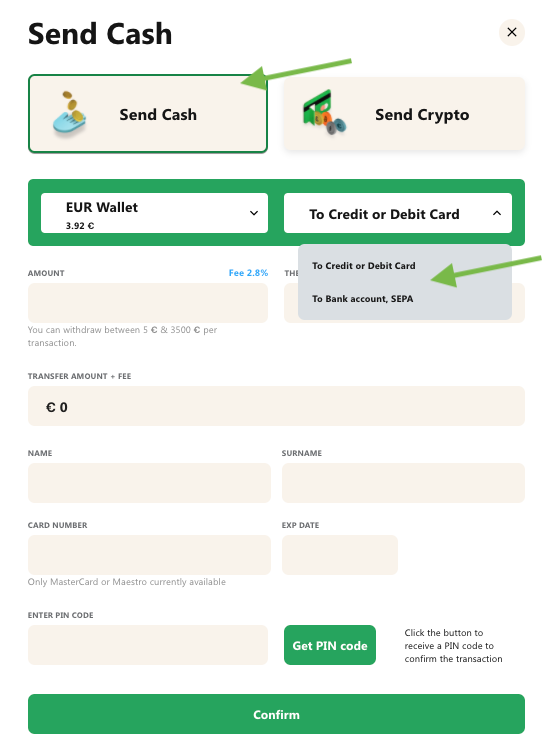 3. Fill in all the Fields and click on the "Get PIN code" button. You will receive an email with your one time PIN code. If you haven't received it within a few minutes, please, don't forget to check your spam folder.
4. Enter the PIN code in the field and confirm your transaction.
To transfer the amount below €4.500 will take around 24hrs. Over €4.500, the money is credited in 72 hrs.
This average time is required by the financial entity.

Please, note, that at this moment we only support MasterCard and Maestro for card transfers. We're sorry for the inconvenience.
Related Articles

Fiat withdrawal limits

In order to withdraw funds, your account should be verified. Transfer to card ? The minimum amount to withdraw is €5. The maximum amount per transaction is €3500 and with maximum of €10.000 per day and €50.000 per month. EUR, SEPA Transfer ? ...

How do I send cryptocurrency to another wallet?

1. At the top right corner you will click in "Operations". 2. Click on the "Send Funds" arrow. 3. Select the cryptocurrency wallet that you'd like to send from. 4. In the right dropdown select To External Wallet. 5. Fill in the fields and click the ...

Why I can not withdraw my money from my account?

If you experience issue while trying to transfer Fiat (EUR, GBP, USD), that could be because you didn't finish to verify your account. At the moment you are able to use your account without complete the verification. The only option that is not ...

Are there Fees to Withdraw Funds?

Transfer to card Countries: Worldwide Min Amount: 5 € - 3 500 € Fee: 2.5% + 0.8 EUR EUR, SEPA Transfer Countries: Austria, Belgium, Bulgaria, Croatia, Republic of Cyprus, Czech Republic, Denmark, Estonia, Finland, France, Germany, Greece, ...

How to enable enhanced security (2FA) for my Nebeus account

To make your account even more secure, we recommend enabling 2FA (two-factor authentication). You can read more about it here: What is two-factor authentication (2FA)? Please also note that we require you to have your account protected with 2FA for ...